SKILLS NEEDED TO BECOME A CRANE OPERATOR
There is more to being a crane operator than most people think. They go to work with a rugged appearance most of the time, but don't be deceived. Their job is one of the most in-demand in construction and is one of the highest paying ones also.
How a crane operator works might be perceived as something so simple as loading up construction materials for a project involving high-rise buildings. However, it's not as easy as it looks. Operations include consideration of safety, weather conditions, and approximation of weight and tension. Overall, there's a specific set of skills needed to become a crane operator. 
To understand them better, let's break down a crane operator's job into four components: 
(1) Maintenance of equipment 
(2) Equipment set up and dismantle 
(3) Job and risk assessment 
(4) Lifting
The following skills needed to become a crane operator conform to performing these jobs.
1. Load Chart Interpretation – This may involve mathematical skills in ensuring the load capacity is within the set limit. As it consists of the theory of physics concerning balance and counterbalance, the crane operator should be precise and sure of the settings as per instruction. Otherwise, it could tip the crane over. Crane operators need to know, not guess, at this specific time, both personal and mechanical parameters of limitation.
2. Excellent hand-eye coordination – Due to an intense reliance on the crane's operation to this skill, applicants need to have perfect 20/20 vision. Though it's not a skill on its own, it's something vital for a crane operator to possess. This, paired with experience, somehow build this particular skill up. It's almost like doing parallel parking. You gain expertise as you do it more and more.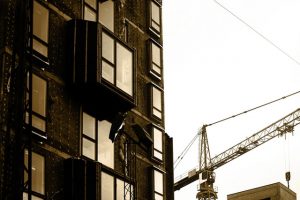 3. Ability to communicate – One thing that crane hire companies look for in their operators is being able to speak up. Being the person in charge, you want to communicate with your groundsman effectively. Working as a team is always good provided you understand each other for safety reasons. Also, if you're not comfortable with the lift you're about to operate, don't be afraid to admit it. Secondly, learn to listen. At one point, you will need help from people already on the job. Most notably, the older and more experienced workers. Since they have been there for a long time, they have an idea of how to operate the crane safely and efficiently. Make sure to get useful points and tips on how to do the job smoothly. 
4. Dexterity – On top of having good hand-eye coordination, you need to become dextrous. Operating the crane steadily is necessary to perform tasks safely and efficiently. This determines how smoothly you could drive the crane and transfer heavy loads from one location to another. Some crane operators train their minds and coordination by playing video games to enhance their skills with their hands. One mistake could cause the crane to tip over and compromise a crane operator's safety and the safety of those around him.
5. Diligence – One of the sole responsibilities of a crane operator is to report anything faulty with the crane. They should check and inspect the crane for damages or defects before using it at all times. The charts should be checked off for the right load for rigging. They should clear the working environment of people. In general, the crane operator needs to be diligent with the most straightforward protocols for a flawless operation. On a side note, they should speak up once they've found something is not right. The ability to have a clear mind while working on the crane must be practised at all times. A crane operator can't afford to make a wrong move or have a distracted mind once the work has begun. 
In earning these skills, it is crucial to have a well-nurtured and well-rested mind. Apprenticeships must be taken seriously. That way, the vital aspects of crane operations are achieved.