What Makes A Perfectly Designed Kitchen
In reality, what makes an ideal kitchen is careful planning and using the right resources. Most avid DIY homeowners might decide to remodel their kitchens according to the designs they can get online. Mimicking an online kitchen décor is easy when you understand basic interior design techniques. Otherwise, hiring an interior design expert can always give you a very functional kitchen. If you want a well-designed kitchen, consider these tips!
Get a Reasonable Budget
Usually, the task of remodeling your kitchen with stylish accents requires a reasonable budget. Ask an expert to guide your budget process when you plan to use beautiful kitchen design ideas. It will be less daunting when you have options of buying cheaper materials.
Plan a Functional Layout
Kitchens with wide walkways (42 inches at least) are very functional and spacious for open-plan kitchen diners. Everyone loves to stay in the kitchen during meal preparations. So, when mapping out the floor plan of your kitchen renovation, homeowners should consider dining and relaxing areas. In space design, architects make considerations for work areas that will be in the kitchen if there's enough space. Imposing a minimum of three triangles (for refrigerator, cooktop, and sink) in the layout helps to plan work areas.
Usually, essential water-using appliances like double-bowl sinks, refrigerators, and dishwashers consume large spaces. Also, thinking of how your family members cook and store food can guide your layout plan. Apart from Open-plan kitchens, other layout types include the U-shaped and L-shaped designs.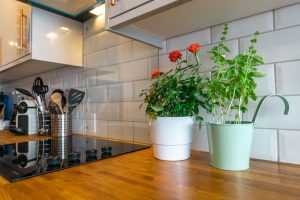 What Is Your Kitchen Style?
While some homeowners prefer cabinets with bar handles, others might opt for cabinet doors that have details like pelmets and cornices. Whatever type of finishing touch appeals to the modern kitchen of your choice is great! Consider your home's design before defining the style of your kitchen's interior. Don't distort the flow of color themes or finishes. Instead, marble tiles finish on the kitchen wall will blend with countertops and backsplashes that are made from granite. So, complementing images and patterns can upgrade kitchens better than using a specific style.
Kitchen Appliances
I have never seen a great kitchen without 'smart' appliances. Most high-end
kitchen appliances have portions of stainless steel on them. Usually, high-end appliances add functionality and glamour to your kitchen. However, going for budget-friendly models can save money. With smart kitchen appliances, every home cooking routine goes well. Coffee makers, pitchers, countertop, microwave, refrigerator, television, and other appliances are appealing decor ideas for top-rated kitchens.
Planning for Ample Storage
Homeowners often remodel their old kitchens because of storage needs. When they shop for their families, having ample storage for food supplies makes them happy. During Christmas and other annual celebrations, cabinets are very useful. Apart from cabinets, overhead wall cabinets and drawers can also be used to store supplies. While cooking, having easy access to kitchen appliances, utensils, foodstuffs, and pots saves stress.
So, think about the ease of access instead of using expensive furniture designs. Cabinet doors with slide-out designs often help to locate items easily. Ensure the runners of drawers, and cabinet doors are intact; they have lower maintenance costs than normal hinges.
Eco-friendly Accent Lighting Fixtures
If possible, try and plan your kitchen's layout to receive natural light. When sunlight dries the sink area, it removes damp odor and accent lighting fixtures can illuminate your kitchen. Install bright ceiling spotlights in cooking areas to can guide your meal preparations. Also, under-cabinet lights (thin models) add unique accents to dark kitchens. Use eco-friendly lighting system like LED bulbs; as they have low emission levels. Additionally, light fixtures with sensors that turn-off automatically can reduce your utility bills.